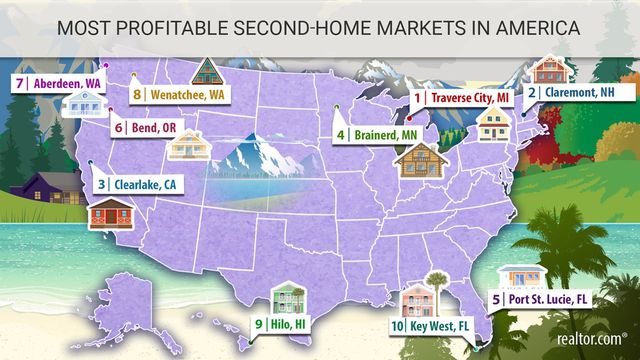 A house right on the beach, maybe a cabin in the woods surrounded by the magnificent fall foliage, or perhaps a rustic lodge in the mountains near the ski slopes. Whatever your dream vacation home happens to be, what if it turned into your best investment as well?
Not only do many second-home markets have solid returns, some even post profits that rival or surpass those in the nation's hottest markets. Plus, some of these vacation spots are surprisingly affordable, with plenty of bargains to be had. Realtor.com ranked the most lucrative second-home markets in the nation, the places where sellers are walking away with biggest profits.
To find the country's most profitable vacation-home markets, they looked at the 500 largest metropolitan areas where second homes made up at least 12% of all of the properties. Then they focused on all of the homes that sold over the past 12 months and compared the most recent sale prices to their previous ones, going back as far as 2008. The profit was defined as the difference between the two sales.
1. Traverse City, MI
Annualized rate of return: 14%
Median home list price: $315,000
2. Claremont, NH
Annualized rate of return: 12%
Median home list price: $255,000
3. Clearlake, CA
Annualized rate of return: 11%
Median home list price: $325,100
4. Brainerd, MN
Annualized rate of return: 11%
Median home list price: $286,200
5. Port St. Lucie, FL
Annualized rate of return: 11%
Median home list price: $279,300
6. Bend, OR
Annualized rate of return: 11%
Median home list price: $442,000
7. Aberdeen, WA
Annualized rate of return: 10%
Median home list price: $229,500
8. Wenatchee, WA
Annualized rate of return: 10%
Median home list price: $449,100
9. Hilo, HI
Annualized rate of return: 10%
Median home list price: $494,100
10. Key West, FL
Annualized rate of return: 9%
Median home list price: $687,100