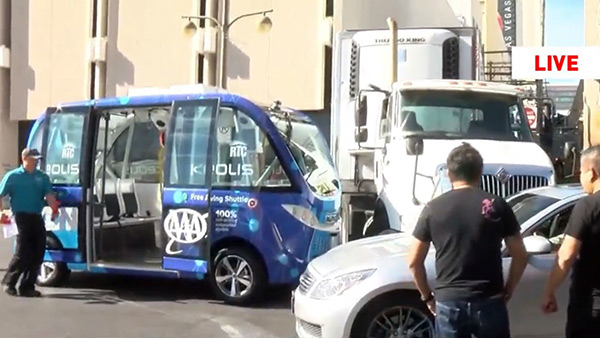 I appreciate technology as much as the next person, but there's something about allowing a car to drive itself that doesn't have the same appeal for me as something like the new iPhone. Read what happened in Las Vegas:
Las Vegas' self-driving shuttle service marked its return by getting into a minor collision, according to local NBC station KSNV News 3. French startup Navya's autonomous electric vehicle shuffles at around 15 MPH on a 0.6 mile circuit in the downtown Fremont East district. But, just an hour into its year-long trial (which follows a successful stint in January) the shuttle was hit by a delivery truck that was backing up.
None of the eight passengers aboard the driverless vehicle suffered injuries and neither did the truck driver. Instead, the front bumper of the shuttle took the brunt of the damage. A spokesperson for AAA, which is sponsoring the latest pilot program, said on Twitter that the accident was due to "human error" on the part of the truck driver.
A representative of the Las Vegas City government also posted a note on its official Tumblr page detailing the accident. "The autonomous shuttle was testing today when it was grazed by a delivery truck downtown," reads the post. It continued: "The shuttle did what it was supposed to do, in that its sensors registered the truck and the shuttle stopped to avoid the accident. Unfortunately the delivery truck did not stop and grazed the front fender of the shuttle."
Simply stopping obviously wasn't enough to evade a collision in this case, which begs the question: Can the shuttle not move (or reverse) to avoid an object, even when the object is crawling towards it? KSNV News 3's Kyndell Nunley posed that question to a representative of Keolis, the French private transportation company that owns Navya. He replied: "It's designed to stop.. and yield to the moving object… But, if the moving object keeps coming toward the shuttle it can back up, but apparently in this case the truck just kept on going, and went right in to the side of the shuttle."
The trial is set to continue, but the incident will do little to ease the concerns of those skeptical about self-driving cars. The free autonomous shuttle service was the first of its kind in the US. In addition, Navya's 15-passenger Arma vehicles are also the stars of a similar program at the University of Michigan, and its tech will soon start powering driverless taxis (that can reach a top speed of 55 MPH). Let's hope the company learns from this incident, and the remainder of the testing.
Source: KSNV News 3, City of Las Vegas (Tumblr)